Joe Rosenthal, 1911-2006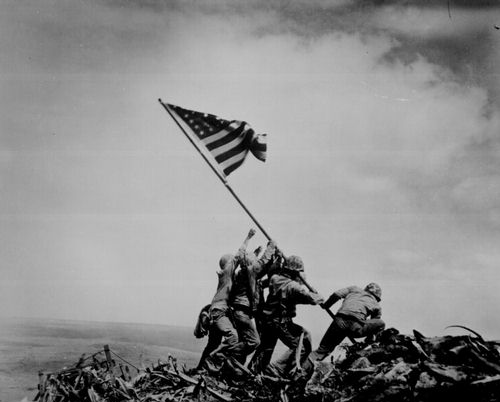 The truly great passions of my life include history and photography. I also regard courage as the pinnacle of human virtues, and I respect and admire genuine patriotism (as opposed to the all-too-common jingoistic counterfeit, which gives true patriotism a bad name.) And so it was with sadness that I noted the passing earlier this week of Joe Rosenthal, the Associated Press photographer who on February 23, 1945 -- the fourth day of the Battle of Iwo Jima -- captured the above image. It won a Pulitzer Prize that year, and in my view, nobody before or since has ever deserved the award more.
Today this is almost certainly the most famous war photograph, and arguably the most famous photograph of any kind, ever taken. The image has become a cultural icon, and incorporates all of the things I appreciate and revere that are included in my short list posted above. The Marine Corps Memorial, across the Potomac from Washington, is based on this photograph, and it is worth noting that three of the participants in this flag-raising did not survive the battle.
Joe Rosenthal is gone now, and there are many other great photographers and photojournalists in the world, but it is hard to imagine any of them ever being able to capture a moment as splendid and inspiring as this one. This one image ensures him a sort of earthly immortality, and doubtless the eternal variety has by now enabled his reunion with the five Marines and one Navy corpsman whose valor he enshrined for the ages.
Requiescat in pace
.